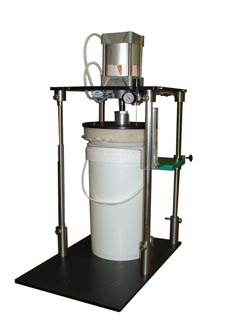 Bucket lidding 'made easy'
Working closely with SCHOELLER ARCA SYSTEMS (Ropac® Pails), Seal-it-Systems have developed a multi-purpose semi automatic lidding machine that makes lid application safe & simple.
In general most companies are still applying lids by hand with the aid of a rubber mallet and both the end user and the bucket/pail suppliers have realized that this practice is no longer acceptable. With this in mind SIS developed the 'Semi automatic lidder'.
The SIS unit can handle buckets/pails from 5L to 30L using quick change legs and pressure plates. Special adaptors are also available for pre-location of bucket & lid were required (e.g. Liquid pails).
The machine is equipped with a 2 hand start circuit for Heath & Safety requirements.
Current users of this unit include inks & coatings manufactures as well as several food companies.
We also offer the MK1 & MK3 snap on lidder which is ideal for smaller pots used for packing soup, seeds, popcorn, etc...
For more information on SCHOELLER ARCA SYSTEMS (Ropac® Pails) and their products visit - www.ropac.ch