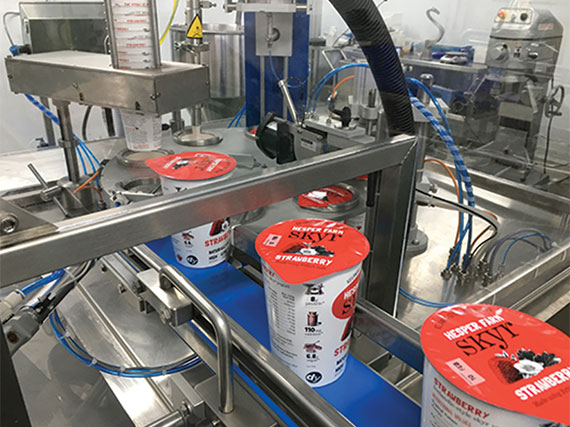 SEAL-IT-SYSTEMS

Hesper Farm Invest In Yoghurt Pot Filling & Sealing Solution
Set off the beaten track in the Yorkshire Dales, Hesper Farm is a proud producer of traditional Icelandic style Skyr Yoghurts. Made by their pedigree Holstein Friesians, the Aireburn Herd, they are part of a proud dairy tradition that goes back generations.
Hesper Farm first purchased their first Riggs Autopack Series 3 depositor in 2015 to operate in conjunction with a manual sealer from Seal-it-Systems.
Their Riggs Autopack Model 1000 Series 3 depositor was a semi-automatic unit and proved invaluable with the flexibility to fill 150gm, 450gm, and larger containers with all styles of yoghurt ranging from smooth vanilla to strawberry, blueberry and black cherry flavours, complete with fruit additions. However, due to increased demand and rapid growth, they soon realised that a higher level of automation was required.
As part of their investment program, Hesper Farm approached Riggs Autopack and Seal-it-Systems to find a fully automated solution. Working together, engineers from Riggs Autopack and Seal-it-Systems modified the existing semi-automatic depositor to a fully automatic depositor to work with a new, bespoke Rotary Sealer.
The Rotary Sealer de-nests one pot at a time from a stack, then using a rotating platen passes each pot through various stages from product depositing with full control integration to the depositor, through foil lid placement, sealing, coding, and finally delivery via a belt conveyor to the packing station.
Previously, 2 operators were required; one mixing and filling the product, and one then sealing and coding. This has all changed with the new integrated automatic solution that is not only working faster but reducing labour, enabling greatly improved production efficiency.
Sam Moorhouse, owner of Hesper Farm said "My Riggs depositor machine is very important to us, without it we'd never be able to meet demand. We produce in small batch sizes and we need quick changeover, damage free depositing, fill accuracy and hygiene is also key. Our depositor gives us all that. The assistance offered by both Riggs Autopack's and Seal-It-Systems sales team in providing us with this new automated solution was second to none".
Credit: www.foodanddrinknews.co.uk/2017/hesper-farm-invest-in-yoghurt-pot-filling-sealing-solution/