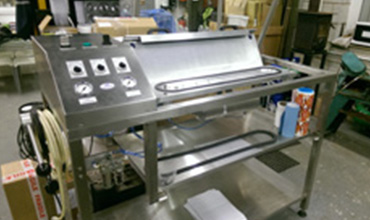 Investment in leak testing
Quality underpins everything that we do at Clondalkin Flexible Packaging. To ensure this we have recently worked closely with Seal-it-Systems (SIS) Ltd to develop purpose-built leak testing equipment for our business. This will check for even the slightest damage in any of our materials and guarantee that there are no faults in the products we deliver to our customers.
The main reason for heat seal lidding is to provide total product integrity via a hermetic (airtight) seal. To ensure this we use many different quality control measures including testing both the peel force (opening power) and burst strength (e.g. can the seal withstand high external pressure) of our lids. As a business we have always carried out leak testing. However, this investment in new technology will enable us to test to the highest possible level, to identify even the tiniest micro hole and guarantee maximum product freshness and shelf life.
Some processes, such as 'pin dot embossing' on polyester, do carry a very small risk of damaging the material, but the new leak tester can quickly and effectively check for damage across the full width and repeat of the material to ensure that damaged material is not processed.
This is a very important piece of equipment for us, which will have a marked impact on the business and reaffirms our commitment to enhancing quality in every aspect of the production process.
Paul Mayall – Technical Manager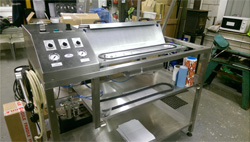 Main machine showing control panel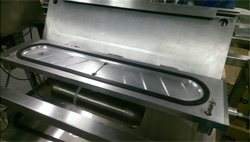 Test area which allows for a full repeat of material to be leak tested